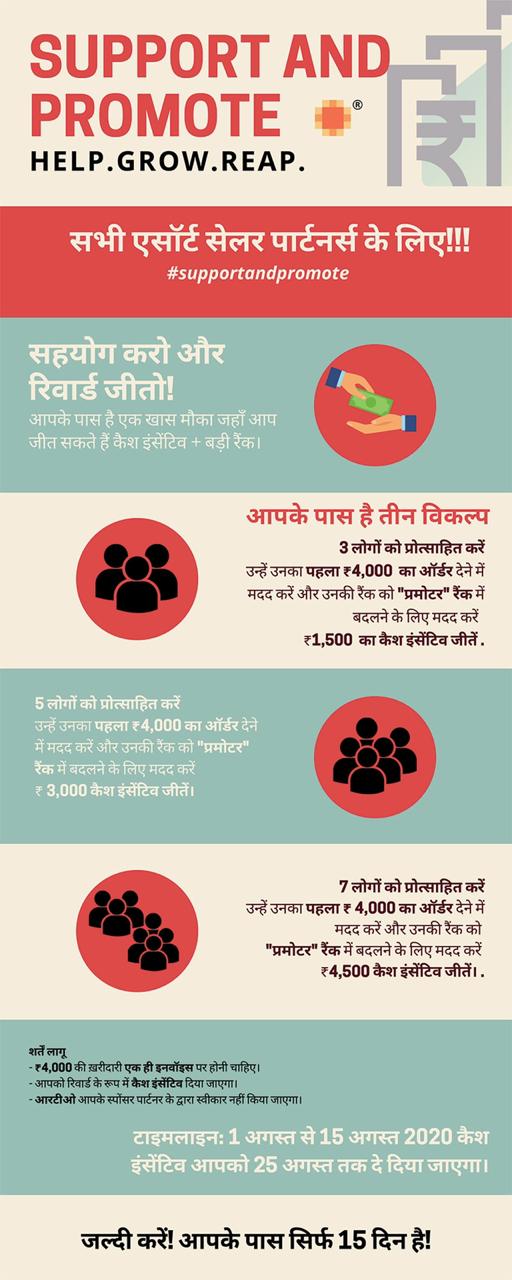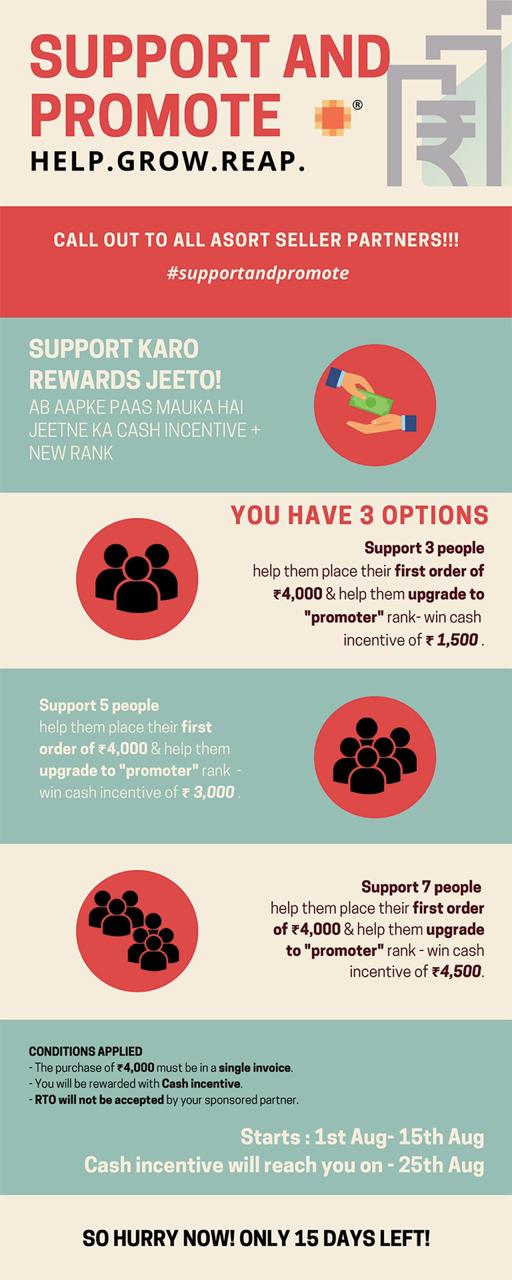 ---
Frequently Asked Questions
1. Are ABO or ACE rank holders eligible to avail the offer benefits?
This offer is for supporting all ranks at all levels, so any rank holder who supports 3,5,7 new promoters will get the benefits.
2. When will I receive the payout for this offer?
It will be released on 25th August 2020.
3. What if my order gets RTO?
The first time order of a new promoter is non-refundable, non-replaceable which means there is no RTO option for this offer.
4. Can the asort seller partner split the order? 
The order should be in a single invoice.
5. What if the distributor is already holding a promoter license, will he/she be able to avail the offer benefits?
 The offer is designed to support new recruitment, so a person who already has a license will be getting the regular commission to get the offer benefits he/she should be placed a first time order between 1st-15th August 2020.  
6. What if a distributor had signed up in the month of April, will he/she get the offer benefits on placing the order? 
The offer allows the sign up can be from any other month, provided his/her first-time purchase must be of 4k, between 1st to 15th August 2020.
7. Is it important for the new promoter to be in my first level to get the benefits?
This offer is to support every rank and every level, it is important that you support the first-line distributor, and as everyone takes the responsibility together, it will enable to increase the sales force and bring in new prospects to business respectively.
8. How much will he/she earn if a distributor invites 4 new promoters, between 1st-15th August 2020? 
 In a situation like this since you could qualify only 4 new promoters, he/she would be eligible to get the benefit of 1st criteria ie 1500/- 
9. If I support 2 people to become a promoter how much will I earn?
The offer criteria start from supporting 3 new promoters to earn benefits.
10. Does the offer require all criteria to be completed between 1st- 15th August?
Any criteria that he/she is focusing on should be completed between 1st-15th August 2020.
 Example: For 1st Criteria, all 3 new promoters should be closed between 1-15th cycle.