Asort's Positivity Meter amid Coronavirus
Before starting this blog, we would like to clear one important thing we are not in the favor of Coronavirus and we don't want to give you the idea that we welcome this global epidemic. As you are already aware that Coronavirus pandemic causes fear, death, worry, health threats, high inconvenience, destroyed livelihood, and shattered both physical and economic worlds but there are reasons for hope, and even optimism. And the sole purpose of this blog is to bring some positive vibes amid this global pandemic Coronavirus
As you know everything comes with pros & cons and even when the time is hard to focus on "cup-half-full" and keep your optimism up, but Coronavirus pandemic can lead to good things and lessons too.
The lessons discovered from the Coronavirus pandemic will deliver profits later on and help individuals prevent more awful ones.
We have only one world and the national boundaries are artificial.
The pandemic has made us realize that we are one world as the virus doesn't carry a passport to move around the world and is hitting all the people, industries and countries. 
Most people infected with Covid-19 recover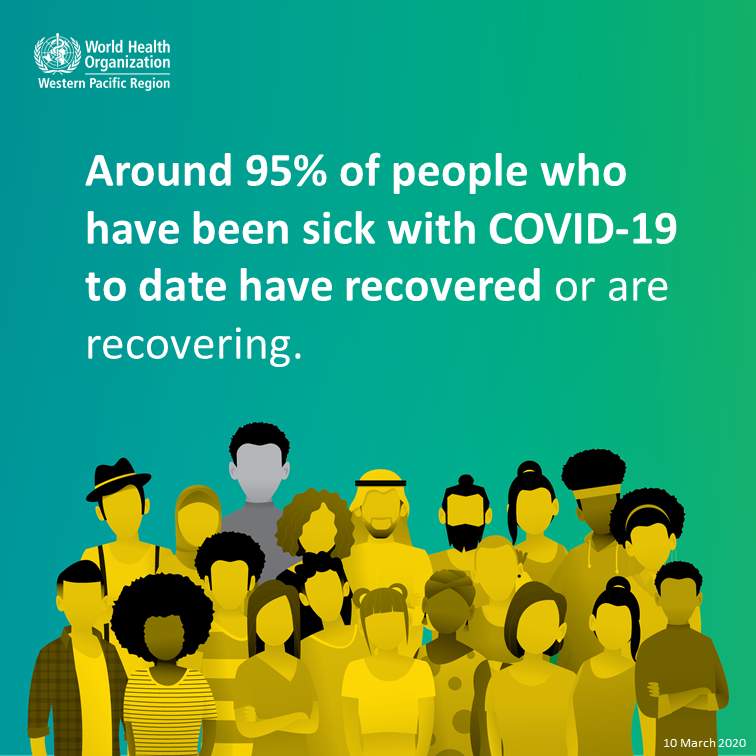 Estimates suggest that 99% of people infected with the virus that causes COVID-19 will recover. The loss of life-related to this pandemic is terrible but the overall death rate is about 1% which is far less than MERS (about 34%), SARS (about 11%), or Ebola (90%).
Children around the world seems to be infected less often
The vast majority of infections so far have afflicted adults. And even when kids are infected, they tend to have a milder disease which is, in fact, good news for little kids & their parents. 
Living a hygienic life isn't that difficult
With or without Coronavirus, leading a hygienic life should be our priority. Washing hands on regular intervals, washing fruits & vegetables before eating, avoiding outside junk foods, having more homemade and consulting doctors when necessary should be practiced regularly. 
We can be together even when we are apart
We all are currently practicing social distancing and are away from our family, friends and loved ones. Thanks to the internet, we have at least social & medical connections where we can visit our family & doctors virtually and get regular updates on their conditions. 
Encouraging localism around the world 
Stuck in Quarantine led all of us to know the neighbors and the family members we've always ignored. As we are distributing ourselves less widely nowadays, we have more time in hand to be present to the people around us.
Doctors are true life-savior
Not hurting anybody's religious values and sentiments but no priest, worshipping places or astrologers can save the patients other than the hard-working doctors all around the world. 
Farmers are the heroes
As soon as the Government announced a lockdown, all of us started piling up on food and basic necessities and not the luxury items which we always thought is an important part of our lives. 
The planet is recovering fast 
The virus is not affecting the environment and earth is regenerating itself quickly without humans into play. Decreases in industrial, transportation, industrial activities since the coronavirus outbreak had reduced levels of pollution. A slowdown in vehicle traffic has resulted in noise pollution decrease led to clear blue skies.
Wildlife may benefit 
People around the world are noticing that animals are living at ease and reclaiming their habitats as human intervention has minimized. The canals are all clear, full of fish & some dolphins, animals are roaming freely, clear skies and birds chirping all around the world.
We can work from home 
Technology has come a long way to help us. Through Zoom call, video calls and virtual meetings, most of us are capable of earning from home without any major difficulties. Especially in the Direct Selling industry, Ds.asort is proving that we are truly a business without boundaries.  By far we have managed 18000+ Participants, 250+ Virtual Meetings in just one week
Replace pain with gain 
With all the time in hand, people are using the lockdown to gain something from it instead of complaining and going through pain. They are investing in new skills, gaining more knowledge, developing good habits, focusing on fitness and taking care of their health better than ever before.
Hope we all get over this pandemic soon and come out of it stronger than ever!